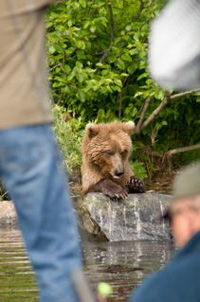 Bears in the cove at Wolverine Creek are used to having people in boats around. This bear went about her business of catching fish while her audience enjoyed the thrill of observing her in her natural habitat.
Photo: Rusty Clarke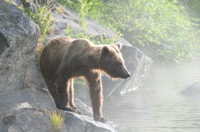 A touch of morning fog encroached on this brown bear as she stood on the rock just above the water. She watched the salmon swimming a yard or so out in the water and waited till she saw her best opportunity. Then she jumped in and came up empty handed.
Photo: Rusty Clarke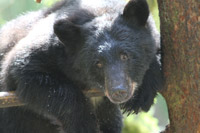 This baby Black Bear climbed into a tree to escape a male Black Bear chasing him. Wrangell, Alaska AnAn Bear Observatory.
Photo: Scott Graber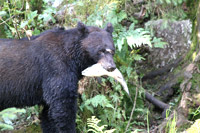 This mother bear is catching salmon, running up stream. Black Bears are seen at the falls near the AnAn Bear Observatory, near Wrangell, Alaska
Photo: Scott Graber

© 2023 Travel Guide. All rights reserved. No part of this site may be reproduced without our written permission.