| | |
| --- | --- |
| | |




Note from the Publisher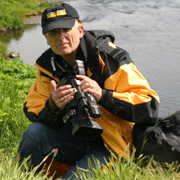 As Publisher of Travel Guide I have had the opportunity to visit many locations and talk with hundreds of people. I have frequented a variety of businesses, visited museums and off-the-beaten-track locations, and enjoyed many excellent restaurants. I have experienced Alaska from the air, bear viewing with Andrew Airways on Kodiak Island, traveled the sea on the Alaska Marine Highway to Southeast and Southwest Alaska, and driven up the Alaska Highway to Dawson Creek and north to Alaska. I would like to share with you our Travel Guide Web, plus if you would like to click here to see some of my favorite digital pictures and video captures, please enjoy...

Scott Graber Publisher
_________________________

1. Mid-Summer Dreams
2. Katmai Coastal Cub
3. Moms Love Their Cubs
4. Best Location for Katmai
5. Late Summer Locations
6. Bears Claim Fishing Rights
_________________________
My Favorite Videos




Order the Travel Guide!

This baby Black Bear climbed into a tree to escape a male Black Bear chasing him. Wrangell, Alaska AnAn Bear Observatory.
Photo: Scott Graber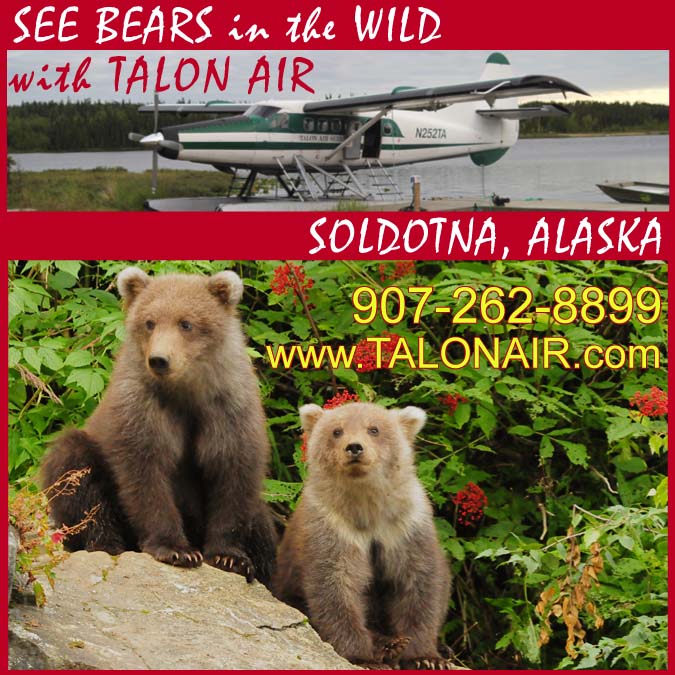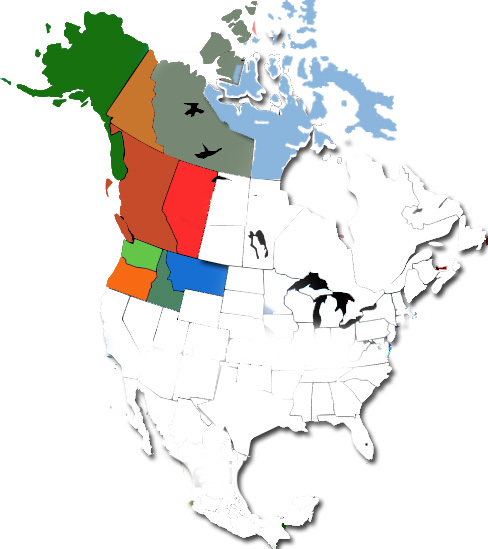 The Vacation Country TRAVEL GUIDE
is your best resource for current travel information on Alaska, Western Canada and the Northwest U.S. Our coverage of Alaska's six regions, the Yukon, Northwest Territories, British Columbia, Alberta, Washington, Oregon, Idaho and Montana features location editorial and history, scenic images, highway and regional maps, Alaska Ferry schedules, hotel and motel lodging, RV locations and complete information on travel services.
TRAVEL GUIDE covers the entire length of the Alaska Highway, from "Mile 0" in Dawson Creek, BC through the Yukon to Whitehorse and on into Alaska's Interior and the Far North. An invaluable resource for traveling the North, Travel Guide provides engaging travel information on major urban centers, unique out-of-the-way places, National Parks and the paradise of fjords and glaciers of Southeast Alaska's Inside Passage, with special fishing and wildlife viewing adventure editorial about Valdez, Homer and the Kenai Peninsula, Kodiak Island and Katmai.
Stretching from Prudhoe Bay on the Beaufort Sea and Dutch Harbor in the Aleutian Chain of Alaska to the Ice Roads of the Northwest Territories, through Western Canada to Glacier and Yellowstone National Parks in Montana and the beautiful Oregon and Washington coasts, Travel Guide is an excellent, exciting vacation planning guide that is the only one of its kind with such extensive coverage in one publication.

Travel Guide's Home Page features Travel News promoting local items of interest for today's Northern traveler. If your business would like to provide information on a service or event, just contact us at editor@travelguidebook.com and we can feature it here.


Featured Ads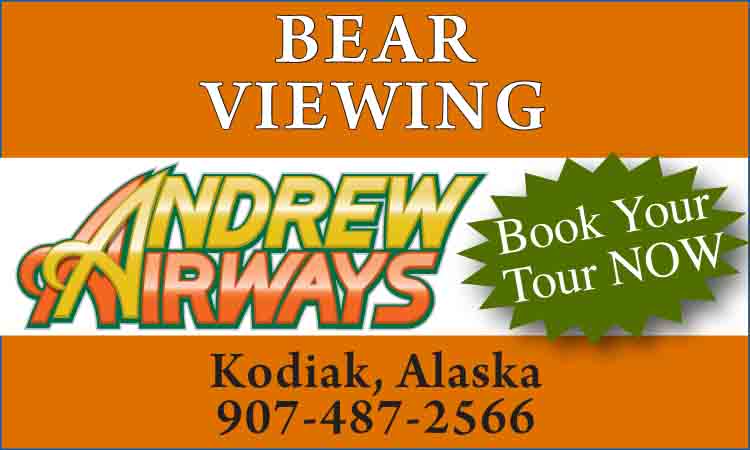 Alaskan Women in Business
Mickey Meyer of Muffler City, Anchorage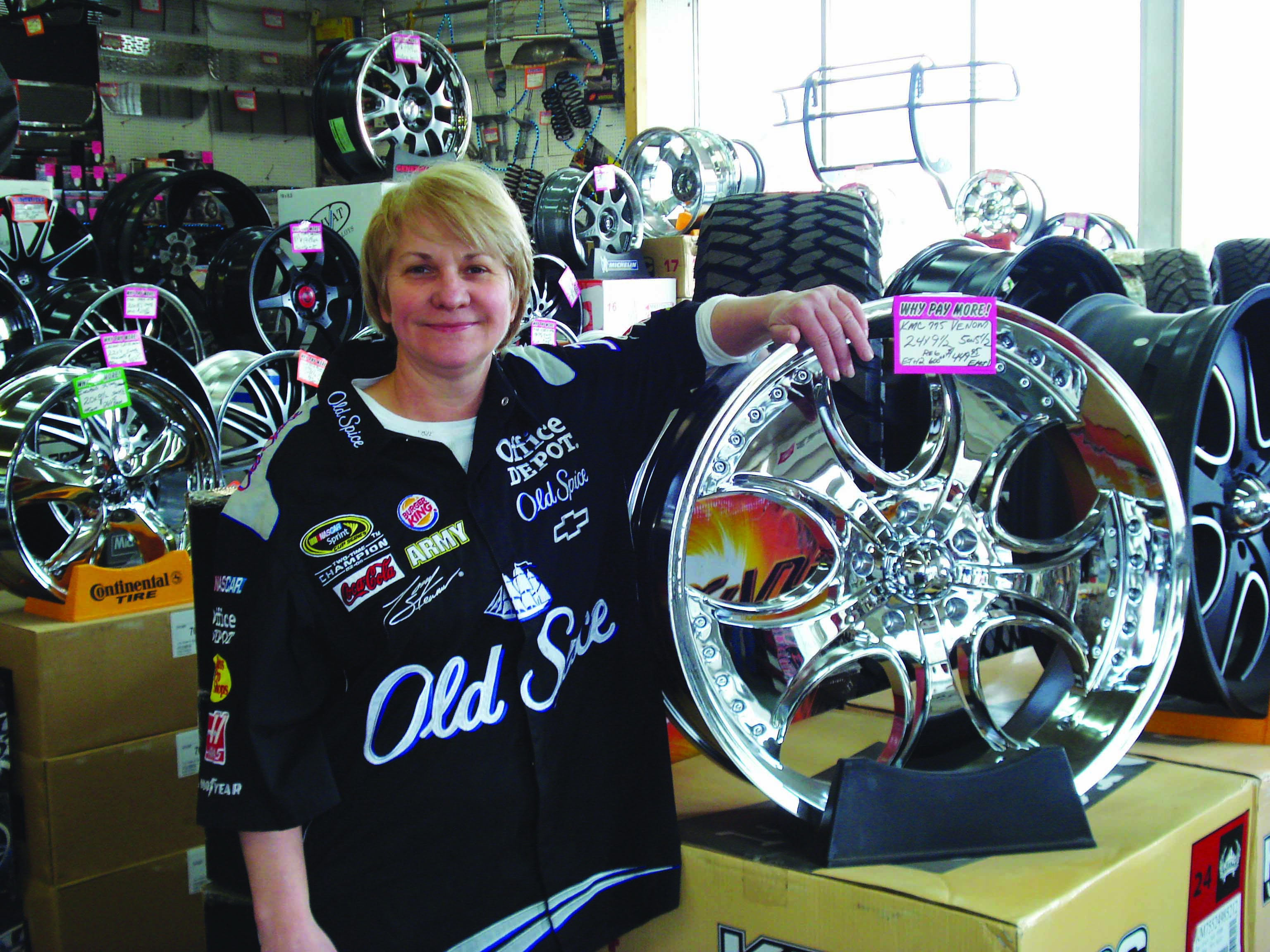 Michelle (Mickey) Meyer has experienced the good fortune to live in Alaska, marry into a great family and develop a career she loves at Meyer's Muffler City and Brake in Anchorage.

Mickey was born in Italy where her dad was stationed with the Air Force, moving to Alaska from Oklahoma 43 years ago. Working retail while still in high school, she went on to manage high-end women's boutiques then worked at Nordstrom for 12 years.

In 1982 Mickey went on a blind date with Al Meyers. They dated for years, marrying in 1991 and quickly starting their family: Lily attends UAA while working at Nordstrom. AJ works at Muffler City and starts at UAA this fall. Olivia is a junior in high school and works part time at the shop, and Christian is a freshman at the same high school. When the kids were young, Mickey worked with her father at his company, Ray's Pro Shop & Sports Marketing.

Since 2000 she's worked with her husband in the business his family has now owned for 60 years. Mickey's mother-in-law Marge Meyers describes how her brother-in-law talked her and husband Al into going to Alaska a few weeks after they were married, to work all summer in construction and save enough money to pay for tuition. It was the first time Marge had been out of California and it wasn't quite as fun as she expected it to be! In 1953 jobs were very hard to come by but the three of them found work, planning to return to California in a year.
Their plans changed when Al decided Anchorage really needed an auto parts store, so with only $4000 between them, they opened their first buisness. Marge brought her baby to work every day and filled the shelves with empty boxes to make it look like they had some merchandise. A few years later they moved locations and also opened an engine shop, eventually owning nine stores throughout Alaska. For a few years Marge did payroll for over 60 employees by herself, by hand. Consolidating to one store in 1987, they have been operating out of it for the past 25 years. With an eye on slowly retiring, the Meyers are happy to have their youngest son Al and his wife Mickey in charge of Muffler City.

Mickey says, "I love selling tires and chrome wheels, it's like a brand new pair of shoes for a car! I also love that I get to remain very family oriented. Muffler City is more of a lifestyle then a job!
Click here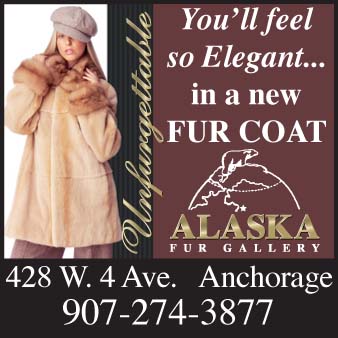 © 2013 Travel Guide. All rights reserved. No part of this site may be reproduced without our written permission.